Port of Salalah Celebrates Safety Day 2016-05-01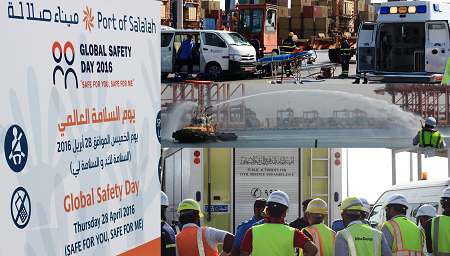 Salalah, Oman- Port of Salalah celebrated its annual Safety Day on Thursday 28th of April 2016 with a theme this year "Safe for You, Safe for Me".
The Safety day included actions to be taken at work places to protect staff, Safe systems, and procedures for using equipment, and carrying out tasks that promote safety across the whole port, including the journey to and from the place of work and protection of the family especially preventing Fires in the home.
The ongoing safety improvements by the port Management pays particular attention to employee behavior at all levels including Training, Risk Assessments procedures, and general ownership, which help enhance all general principles in the Port.
A program of events have been organized by the HSSE Department which included various activities such as (General Medical Checks, Oil Spill Exercise, Watching Movies and Senior management Presentations, The campaign also includes awareness programs provided by Civil Defense and specialist organizations with displays and exercise's running throughout the day.
In this Occasion, Mr. David Gledhill, CEO of POS said, "The aim of the International Safety Day is to focus on the importance of the health and safety to protect all the Port staff and contractors in addition to providing safe environment free of accidents and diseases that might cause fatalities and huge losses" Mr. Gledhill also praised the efforts of all concerned staff who implemented the best practices that bring positive results and achieved continuous improvement in this very important area of our business.
Mr. Ahmed Akaak, the DCEO of POS confirmed that, "On this occasion we concentrate on enhancing the safety culture and behavior at the workplaces." He also said that, "This comes as part of the Port intention to deepen and consolidate the concept of safety culture, and increase safety awareness. It also provides a healthy environment where the welfare of our staff continues to remain high on the agenda"
Mr. David Wilson General Manager HSSE said that the port is committed to the safety of its staff and everyone else and together with continued education and support, we can achieve positive productivity and safe working conditions, which will help, secure the future success of Port of Salalah.