Training & Development
At the Port of Salalah, we strongly believe that the educational development of our employees is essential for their individual career progression as well as our organisational success. Therefore, we adopt a structured and comprehensive training plan cantered around personal development and continuous improvement.
Following is the snapshot of our ongoing programmes through our dedicated training centre
Port Equipment Operator Training
Ship Work Training
Management Development Courses
Internal Education and Training
External Education and Training
Computer Skills Training
Summer Internship Program
AP Moller-Maersk sponsored programs
Global Terminal Development Programme by APM Terminals Port of Salalah has a transparent recruiting procedure where all open positions are posted internally and publicly.
Via our Lean Academy, almost half of our employees have been trained and equipped with our Lean methodologies
Over 5,000 Kaizen (continuous improvement) opportunities, which impact customer experience or the safety of our people, have been delivered
WoW opportunities have resulted in millions of dollars worth of savings to our organisation and our customers
Customer Satisfaction (Net Promotor Score) has increased every year for the last four years
Many Leader-Led Safety walks are carried out every year to ensure our operations are as safe as possible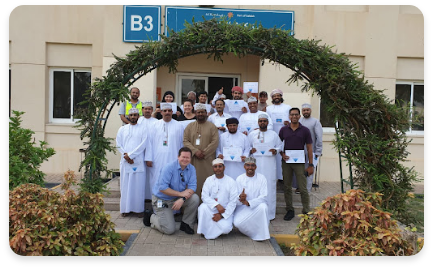 Ways Of Working Model
We structure how we operate and improve our business based on global standards, best practices and a relentless customer focus. Our Ways of Working diagram shows the critical elements of our business system; Performance, People, Standards and Kaizen (Continuous Improvement).
Kaizen

We aim to continuously improve our business performance. From frontline to CEO, from daily to global Kaizens, Kaizen is our way of life and involves all of us. This is how we eliminate waste boots productivity and promote innovation every day.

People

We develop, upskill and coach our people to give and be their best version of themselves every day. We ensure safety for our people in everything we do. We create an engaging workplace by working in a way that builds on the creativity and contribution of our people.

Standards

We define and follow standards to save time and pave the way for better collaboration. We learn from and with each other by basing our work on best practice standards. We continuously improve our procesess, and we never stop learning.

Performance

We deliver business results consistently for our stake- holders. We include the voice of customer in everything we do to constantly improve the customer experience. We drive cost leadership across the entire business.