The Port of Salalah attracts and supports young Omani SMEs to set up businesses 2015-07-06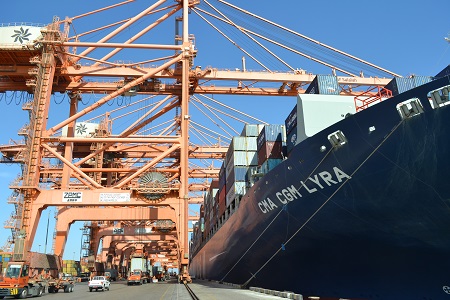 As part of its robust Corporate Social Responsibility (CSR) program, the Port of Salalah encourages the integration of local SMEs in the port. Commenting on the Port of Salalah's recent initiatives to support SME's, Mr. Mohamed Qatan, Owner of Global Coasts Shipping Company stated, "I have decided to start my own shipping agency company here because the Port of Salalah receives more than 3000 Vessels per year, which means there is room for business for SMEs such as myself. Hence, I started my business and I am very pleased with the constant support from Port management and all government authorities at the port.
Another SME to benefit from the policy of encouraging SMEs in the Port of Salalah, Mr. Ahmed Al Mashikhi, owner of Arabian Silk Trading started his custom clearing office two years ago and today he is one of the leading custom clearance offices in Salalah. Therefore, he is encouraging new young Omanis to start their own business and benefit from this world class port.
Mr. Jafar AL Kathiri, Owner of Amwaj AL Reeda Shipping agency started his business by importing fish from Yemen and then export to Europe from here. He provides transportation between Yemen and Oman, so he got a contract with a large Yemeni businessman to move his cargo between Port of Salalah and Yemen via AL Mazyona Free Zone.
While speaking to local business leaders, the Deputy CEO of the Port, Ahmed Akaak said, "We will continue to encourage the integration of SMEs into the Port of Salalah business community as we recognize the SMEs as an integral driver of economic growth and job opportunities for Omani citizens in Salalah."